These seasonal foods will help you avoid weight gain in winter.
It is quite easy to make healthy food choices during spring and summer. In fact, it is the best time to increase your activity levels, spend time outdoors, and stick to your weight loss goals and stay in shape. But the colder, shorter days, layered sweaters and puffy coats make it hard to win the weight loss battle. We spend more time at home during winter months and find it hard to move around. Your appetite goes up, and a lot of high-fat comfort foods, creamy soups, casseroles, and cookies make it difficult for you stick to your weight loss goals and eventually you put on some extra pounds.
Thankfully, there are nutrient-packed, low-calorie, high-protein winter foods for weight loss that you can incorporate to your winter diet and lose extra inches around your belly. By adding these winter foods to your diet, you can reduce overeating, revitalize up your metabolism, and encourage fat loss. These winter foods, including veggies, fruits, drinks, and spices are packed with all the essential nutrients that are required to maintain a healthy weight.
Avoid weight gain during winter with these healthy and flavourful seasonal foods.
Cauliflower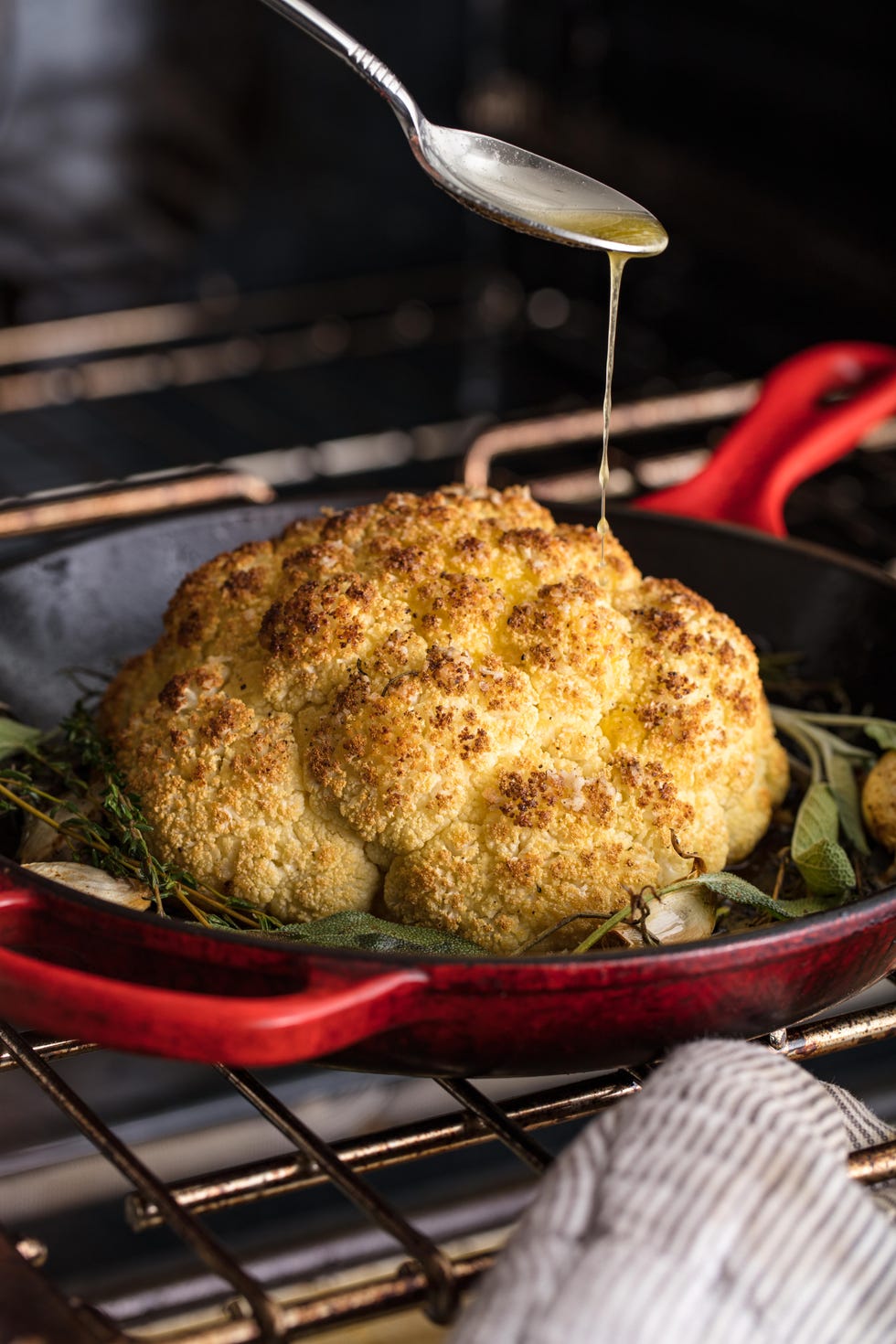 Cauliflower is one of the healthy veggies that is famous for its nutritional value. Its incredible nutritional profile makes it one of the best weight loss-friendly vegetables that you can easily incorporate into your weight loss diet plan. Cauliflower is loaded with vitamins, minerals, fibre, and antioxidants that are good for your overall health.
Cauliflower is so versatile; you can cook in several ways like soups, stir-fries, salads, casseroles. It would be a fantastic low-carb addition to your diet that can easily replace high-carb, processed foods.
Check out these delicious and nutritious cauliflower recipes to enjoy this winter season.
Roasted Garlic Cauliflower
Crunchy Cauliflower and Tomato Salad
Cauliflower Tots
Cauliflower Rice
Cauliflower Grilled Cheese
Cauliflower Mac and Cheese
Cheesy Mexican Cauli Rice
Cauliflower Leek Soup
Chicken Fried Cauliflower
Loaded Cauliflower Salad
Cauliflower Baked Ziti
Bacon Cauliflower Chowder
Guava
This winter delight can provide you with essential nutrients, including vitamin A, vitamin C, potassium, magnesium, and antioxidants. This flavourful, sweet and juicy fruit is incredibly healthy, full of fibre and may help you lose weight. Eating guava is good for your digestive, heart, and skin health. Guava can lower blood sugar levels and boost your immunity.
There are hundreds of thousands of tasty and healthy ways to eat guava and reap maximum health benefits. Try these creative guava recipes ideas:
Spicy guava barbecue
Guava cake
Guava smoothie
Guava sorbet
Guava and Pomegranate smoothie
Guava beef with vegetables
Guava pineapple vinaigrette and salad
Guava and banana smoothie
Sunflower Seeds
Sunflower seeds are excellent and healthy winter snacks that can provide you with a healthy dose of vitamin B, vitamin E, protein, folate, and antioxidants. They are a very good source of essential minerals, including selenium and magnesium. They can boost your immunity, promote skin health and may prevent cancer.
If you are wondering how to eat sunflower seeds, check out these sunflower recipes' ideas:
Seedy Oat Crackers
Crab with Romaine, Dill Sauce, and Sunflower Seeds
Seeded Whole Grain Soda Bread
Caramelized-Honey Nut and Seed Tart
Fennel-Honey Granola
Asparagus with Toasted Seeds and Mustard Vinaigrette
Thai-Style Grain Salad with Crunchy Seeds
Spiced Pumpkin Seed and Cashew Crunch
Shaved Squash Salad with Sunflower Seeds
Watercress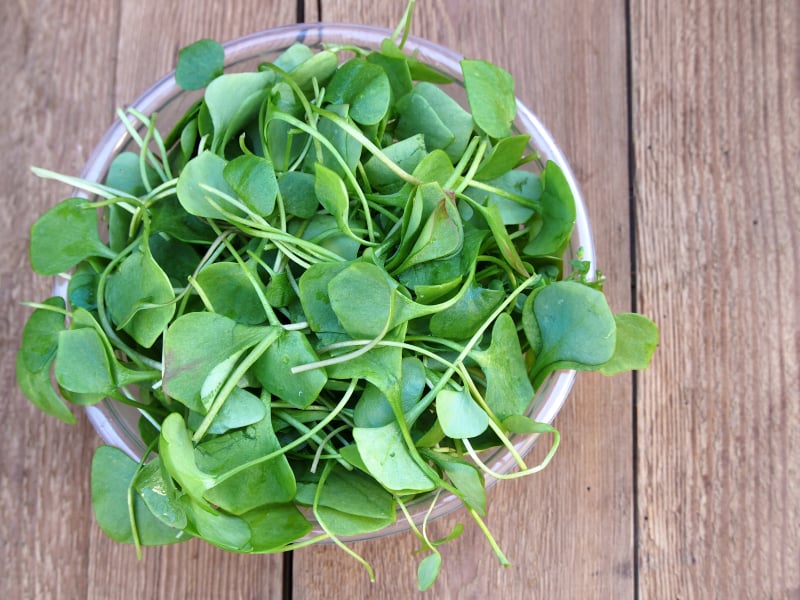 This nutritious leafy green, superfood has an amazing ability to shrink your waistline while improving your overall health. Incorporating watercress into your winter diet is a healthy idea as it contains important minerals, including calcium, magnesium, potassium, that can lower your blood pressure. It is rich in vitamin K and antioxidants that are good for cardiovascular health, diabetes and chronic illnesses such as cancer.
This leafy green can be used to make salads and enhance the flavour of risottos and sandwiches. Try these super yummy watercress recipes:
Crispy Pomegranate, watercress, and fennel salad
Skirt Steak with Shallots and Sautéed Watercress
Bacon, potato and watercress salad
Risotto with shrimp and watercress
Turkey sandwich with watercress and apple
Watercress and bean salad with almonds and Ricotta Salata
Gingery Sautéed watercress and shiitakes
Watercress, beet and fennel salad
Watercress pesto pasta
Asparagus and watercress pizza
Watercress soup
Salmon, avocado, and watercress tea crackers
Watercress horseradish deviled eggs
Turkey, avocado and cress wrap
Carrots
Carrots are loaded with fibre that can suppress your appetite and keep you full for long. This perfect winter food can naturally promote weight loss by making you feel satiated. The best part about this crunchy, tasty, and nutrient-dense vegetable is that it is low in calories and a very good source of vitamin A, K, potassium, and antioxidants. This weight-loss-friendly veggie is good for your eye, heart and digestive health.
Here are some creative and healthy ideas to eat carrots.
Gingered Carrot & Kale Ribbons
Roasted Carrots with Turmeric Couscous
Carrot & Apple Salad
Carrot-Chili Vinaigrette
Potato-Carrot Latkes with Lemon-Raisin Topping
Harissa Carrots
Peas with Lettuce & Carrots
Roasted Carrot, Squash and Sweet Potato Soup
Ginger Beer-Glazed Carrots
Carrot-Apple-Ginger Smoothies
Pea & Carrot Soup with Rice
Chilled Red Pepper & Carrot Soup with Yogurt
Pomegranate
Another super healthy winter food that you should add to your diet is pomegranate. It is packed with fibre, antioxidants, vitamin C, vitamin K, folate, and potassium. Pomegranate has amazing medicinal properties; it can significantly reduce blood pressure, fight against arthritis, lower your risk of developing heart diseases and inflammatory conditions.
You can add pomegranate seeds into salads or cranberry sauce to make it extra delicious. Enjoy these pomegranate recipes this winter.
Cardamom-Buttermilk Panna Cotta with Pomegranate
Eggplant, Pistachio, and Pomegranate Pizza
Braised Fennel with Pomegranate
Pomegranate-Braised Short Ribs
Homemade Pomegranate Molasses
Citrus Salad with Pomegranate Seeds
Fall Sangria
Fennel-and-Endive Salad with Pomegranate Seeds and Walnuts
Sparkling Pomegranate Cocktails
Raw Kale Salad with Pomegranate and Toasted Walnuts
Meyer Lemon Brisket with Pomegranate Gremolata
Sweet Potatoes with Coconut, Pomegranate, and Lime
Pomegranate Roasted Chicken
Pomegranate-Bulgur Salad
Red-Pepper and Walnut Dip with Pomegranate
Chicken Salad with Apple, Pomegranate, and Beet
Roasted Vegetables with Pomegranate Vinaigrette
Cranberry-Pomegranate Relish
Pomegranate with Pears and Goat Cheese
Avocado
Avocado is an incredibly nutritious fruit that is filled with healthy fats, fibre, vitamin C, potassium, vitamin B1, B2, B3, B5, B6, and E. It also contains essential minerals, including magnesium, copper, iron, and phosphorus. It can lower your cholesterol level, improve eye health, and may relieve symptoms of arthritis. One of the best things about avocado is that it can make you feel satiated that will eventually help you eat less and lose weight.
Thinking to add avocado to your weight loss diet plan? Try these creative avocado recipes:
Creamy Avocado Smoothie
Avocado Vegetable Summer Rolls
Tomato, Peach & Avocado Bruschetta
Strawberry Salad with Basil and Avocado
Avocado Tomatillo Breakfast Tacos
Shiitake Bacon & Egg Breakfast Tacos
Kale Salad with Avocado-Tahini Sauce
Sweet Potato Avocado Tartare
Shakshuka with Spinach and Harissa
Cranberries
Cranberries are famous due to high nutrient and antioxidant content. They are a good source of vitamin B, vitamin C, vitamin E, vitamin K, and fibre. This superfood, healthy food can provide many health benefits, including preventing urinary tract infection, cardiovascular diseases, dental problems, and chronic illnesses.
Cranberries are a versatile food; it can be used as a fruit smoothie, can be added to your oatmeal, muffins, cookies or any dessert to enhance the flavour. You can make a variety of things with cranberries; some easy healthy ideas are listed below:
Cranberry-Jalapeno Salsa
Cranberry Relish
Cranberry Pancakes
Cranberry Butter
Cranberry Cream Cheese
Cranberry Granola
Cranberry Oatmeal
Cranberry Scones
Cran-Carrot Juice
Cranberry Arnold Palmer
Cranberry Margarita
Cranberry-Potato Pancakes
Cranberry Tea Sandwiches
Cranberry Snack Mix
Cranberry-Chipotle Slaw
Farro with Cranberries and Herbs
Cranberry Rice Salad
Cranberry Chicken Salad
Cranberry Turkey Meatballs
Cranberry-Glazed Ham
Cranberry Cornbread
Cranberry-Pistachio Cookies
Cran-Velvet Cupcakes
Cranberry Marshmallow Treats
Here are some other Winter Foods for weight loss that you should try:
Chia Seeds
Greek Yogurt
Starfruit
Macadamia Nuts
Honey
Pomelo
Pears
Beetroot
Cinnamon
Fenugreek Seeds
Rosemary
Kale
Oatmeal
Try these delicious seasonal foods and say goodbye to winter weight gain.